Lanzarote Airport, located on the stunning Canary Island of Lanzarote, is a gateway to breathtaking landscapes and beautiful beaches. Hiring a car is convenient, with many car rental services operating directly from the airport.
Reasons for getting Car hire in Lanzarote as opposed to relying on public transport:
Island Exploration: Lanzarote is a relatively small island, but it's packed with diverse natural beauty, unique attractions, and charming towns. Renting a car allows you the freedom to explore every corner of the island at your own pace. Whether you want to visit the otherworldly Timanfaya National Park, relax on pristine beaches, or tour the quirky art installations of César Manrique, having a car makes it all easily accessible. Car rental in Lanzarote is recommended to reach all of the hidden beauty spots missed by some of the public transport on the island.
Convenience: After a long flight, the last thing you want is the hassle of arranging transportation to your accommodation. Renting a car from Lanzarote Airport eliminates this stress. You can pick up your vehicle as soon as you land and hit the road without delay, allowing you to enjoy your holiday in the Canaries instantly.
Variety of Options: Lanzarote Airport hosts several well-known car rental companies, each offering a wide range of vehicles to suit your needs and preferences. Whether you require a compact car for city driving or a spacious SUV 6 or 7 seater for family adventures, you'll find an option that fits your requirements.
Competitive Pricing: Due to the high demand for rental cars on the island, many rental companies at Lanzarote Airport offer competitive pricing and a variety of promotions. These promotions can include discounts for early bookings, extended rental periods, or special rates for certain vehicle categories. Travelers often find that renting a car is convenient and cost-effective.
Flexibility: Having your vehicle allows you to create your itinerary and explore off-the-beaten-path destinations. You can change plans on a whim and avoid being bound by tour schedules or public transportation timetables.
Airport Pickup and Drop-off: The convenience of picking up and dropping off your rental car at Lanzarote Airport cannot be overstated. It saves you time and eliminates the need for additional transfers or transportation arrangements to and from your accommodation.
Safety and Comfort: In the era of social distancing and health concerns, having your rental car provides safer and more comfortable transportation. You can travel with your group, ensuring minimal exposure to crowded spaces.
24/7 Availability: Lanzarote Airport's car rental counters often operate 24/7, ensuring that you can arrange for a rental car no matter what time your flight arrives or departs.
Renting a car from Lanzarote Airport is a convenient and alluring option for travellers looking to make the most of their island visit. With the myriad offers and promotions available, it's not just about convenience but also affordability and flexibility. Prepare to book your car rental at Lanzarote Airport now and embark on an unforgettable adventure at your own pace.
Useful Information about Renting a hire car in Lanzarote
Car rental companies In Lanzarote have a legal duty to register the passport details of tourists when they check in or collect a rental vehicle.
To rent a car in Lanzarote, meeting certain criteria and providing specific documentation is essential. Here's what you need:
Age Requirement: While the minimum legal driving age in Spain is 18, most car rental companies in Lanzarote typically require drivers to be at least 21 years old to rent a car.
Valid UK Driving Licence: You will need a full UK driving licence. If your UK licence was not issued by mainland UK authorities (e.g., Gibraltar, Guernsey, or the Isle of Man), you may also need an International Driving Permit (IDP).
Identification: To hire a car in Lanzarote. you will need a valid passport or National ID card if you're an EU citizen for identification purposes.
Payment Method: A credit card is usually required to pay for the hire car/rental deposit. Some car rental agencies may also accept debit cards, but you should check with the specific car company you plan to rent from.
Hire Car Insurance: At a minimum, you must have third-party liability insurance to rent a car in Lanzarote. It's essential to ensure you have adequate insurance coverage for your rental vehicle, and you can discuss this with the rental company during the booking process.
By meeting these requirements and having the necessary documentation, you'll be well-prepared to rent a car and explore Lanzarote at your own pace.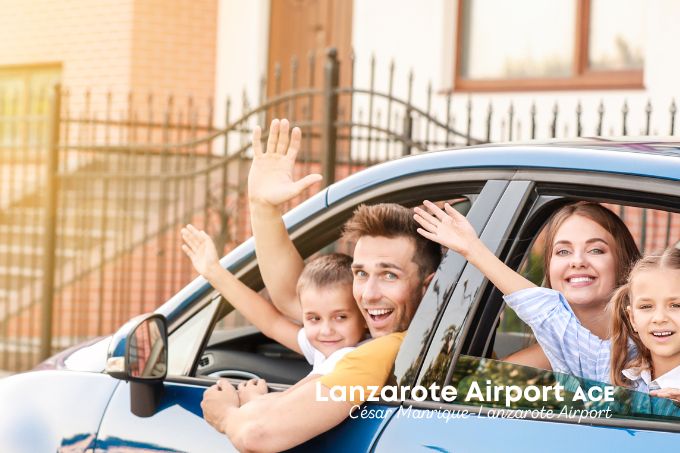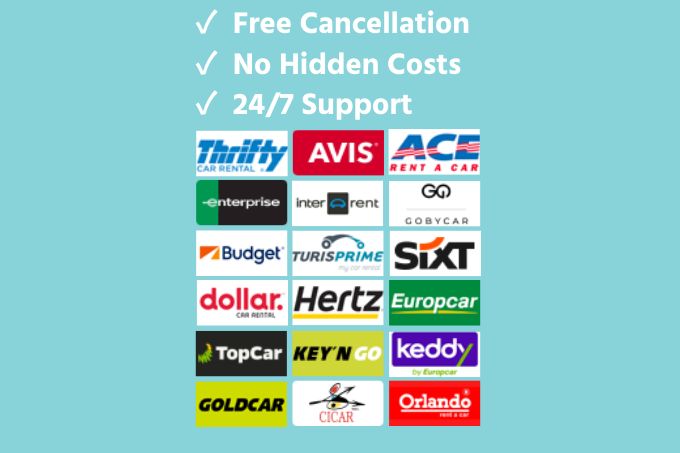 Car hire Lanzarote – Advice when picking up your rental
When embarking on your car rental in the Canaries or anywhere in Spain for that matter, it is prudent to adhere to these guidelines:
Thorough Inspection: Upon taking possession of the rental vehicle, conduct a comprehensive inspection, meticulously documenting any pre-existing dents or scratches. When returning the car, capture detailed exterior and interior photographs to substantiate its condition. This proactive approach serves as a safeguard against unwarranted charges.
Insurance Verification: If you do not possess a personal external insurance policy, ensure that you carefully review the hire contract to confirm the inclusion of insurance coverage. Conversely, if you hold your own car insurance, exercise diligence to prevent duplicative payments for identical coverage.
International Travel: Should your travel itinerary involve crossing borders into neighbouring countries or islands, it is imperative to notify the rental agency in advance. This proactive communication is essential to ascertain that you possess adequate insurance coverage for all destinations within your itinerary.
Negotiate Mileage: Endeavor to negotiate a rental agreement that encompasses unlimited mileage. This can help you avoid incurring extra charges for exceeding predetermined mileage limits.
Car hire Lanzarote Fuel Agreement: In cases where you are required to return the vehicle with a full tank of fuel, verify that it is indeed full when you take possession of the car. To expedite the return process, consider refuelling at the nearest petrol station to the rental agency before returning the vehicle.
By following these guidelines, you can ensure a smoother and more cost-effective car rental experience in Spain, enhancing your overall travel enjoyment.
Driving in Spain Post-Brexit
Since the United Kingdom is no longer a member of the European Union, there are new requirements for driving in Lanzarote. If your driving licence was not issued in the UK, you must obtain an International Driving Permit (IDP), available at your nearest post office. This permit is essential to ensure compliance with Spanish regulations when driving a hire car in Lanzarote.
Car hire Insurance in Lanzarote – options

Typically, car rental companies incorporate a Collision Damage Waiver (CDW) into the total booking cost. While an excess still applies in case of damage, the rental company relinquishes the right to charge you more than the specified excess amount.
A Loss Damage Waiver encompasses both CDW and Theft Protection (TP) policies, ensuring coverage for vehicle replacement in case of theft.
Third Party Liability insurance safeguards you against the financial consequences of causing harm or injury to a third party in an accident for which you are held liable.
Excess insurance provides coverage for the excess amount applicable in any of the aforementioned scenarios