César Manrique-Lanzarote Airport (ACE)
Lanzarote Airport, officially known as César Manrique-Lanzarote Airport, is an international airport located on the island of Lanzarote in the Canary Islands, Spain. (IATA Airline and Location Codes: ACE, ICAO: GCRR) Lanzarote airport is located in San Bartolomé, Las Palmas, just 5 kilometres southwest of the island's capital, Arrecife.
Runways and Terminals: Lanzarote Airport has a single runway designated as 03/21, which is approximately 2,400 meters (7,874 feet) in length. The airport has a single-passenger terminal that serves both domestic and international flights.
Passenger Traffic: César Manrique-Lanzarote Airport is one of the busiest airports in the Canary Islands, serving millions of passengers annually. The airport has witnessed steady growth in passenger numbers due to its popularity as a tourist destination.
Tourism Hub: The airport is crucial in facilitating tourism on the island of Lanzarote. The island is known for its beautiful beaches, volcanic landscapes, and unique architecture influenced by artist César Manrique. Many tourists from various European countries use Lanzarote Airport as their entry point to explore the island.
Airlines and Destinations: The airport serves a wide range of airlines, including both scheduled and charter carriers. It offers connections to various European cities, making it an essential hub for connecting tourists and residents.
Cargo Operations: Apart from passenger flights, Lanzarote Airport also handles cargo operations, transporting goods and products to and from the island.
Runway Orientation: The runway at Lanzarote Airport is oriented in a north-northeast/south-southwest direction (03/21), determined by its magnetic heading. This orientation allows aircraft to take off and land based on prevailing wind conditions.
Geographical Location: Lanzarote Airport is situated on the island's eastern coast, near Arrecife. It's approximately 5 kilometres (3.1 miles) southwest of Arrecife's city centre. The airport's proximity to the coast offers stunning views of the Atlantic Ocean from its runways and terminals.
Volcanic Terrain: The island of Lanzarote is of volcanic origin, and this unique landscape is visible around the airport. The surrounding terrain features volcanic cones, craters, and lava fields, giving travellers a distinctive visual experience as they arrive or depart.
Airport Services: Lanzarote Airport offers a range of services to passengers, including shops, restaurants, car rental facilities, and more. These amenities cater to the needs of travellers during their time at the airport.
Marking a significant milestone in its history, Lanzarote Airport, strategically located in the town and municipality of San Bartolomé on the island of Lanzarote, the northernmost and easternmost of the Canary Islands, celebrated the inauguration of a new terminal and various recently completed infrastructural developments back in 1970. This expansion paved the way for a notable surge in domestic and international civilian flights. This upsurge in routine air travel signified a noteworthy achievement for Lanzarote Airport, which has been widely recognized as a key transportation hub. In 2019 it was officially named César Manrique-Lanzarote Airport.
César Manrique-Lanzarote Airport
Lanzarote Airport Information
Contact information services
(+34) 91 321 1000
César Manrique-Lanzarote Airport, situated just 5 kilometres drive from Arrecife, plays a pivotal role in driving the remarkable growth of tourism on the island.
Most of the airport's visitors come from European countries, with the United Kingdom and Germany contributing to over 60 percent of international arrivals.
Domestic travel primarily centres around three key destinations: Gran Canaria, Adolfo Suárez Madrid-Barajas, and Tenerife North.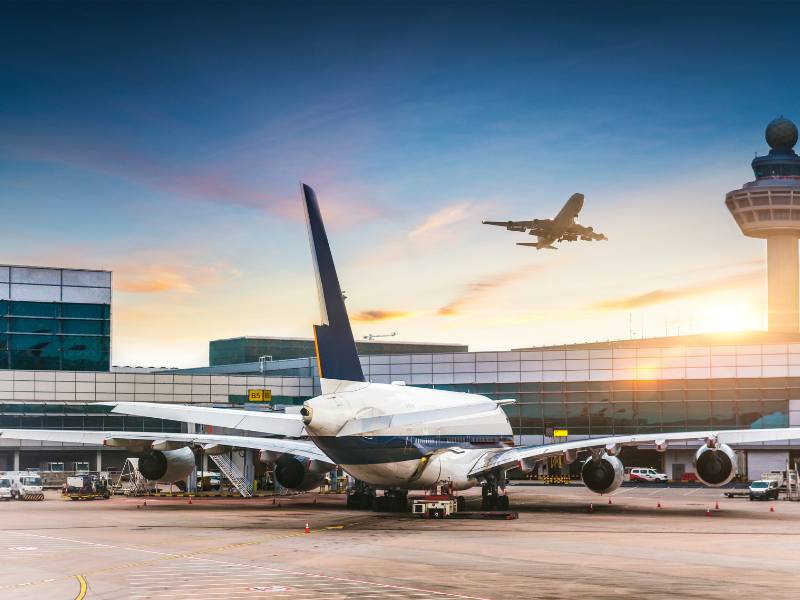 César Manrique-Lanzarote Airport
Lanzarote Airport is also known as Arrecife-Airport. As the airport continues to grow, national and international flights are frequently operating to bring thousands of visitors to this Canary Island.
Airport Location
César Manrique-Lanzarote Airport is located 5 kilometers from Arrecife in San Bartolomé, Las Palmas
contact
+1 (323)-456-9123
Address
Aeropuerto de Lanzarote / César Manrique-Lanzarote Airport. Edificio oficinas de Aena.
35509 San Bartolomé, Las Palmas, Lanzarote.